Graber Letterin' Sign Company is located at 58 Schoolhouse Road, Boyertown, PA. Since 1992, we have been serving the Oley Valley and surrounding counties with professional high quality vehicle graphics, signage and logo design. We started by lettering race cars while at the same time we were beginning to develop a reputation of being able to provide local business with high quality logos, vehicle graphics, and signage.
We are still lettering the occasional race cars in our shop, but our commitment to providing commercial vehicle graphics and signage product offerings is what now occupies most of our time. Every year we letter over seventy commercial vehicles and provide signage solutions to many area businesses and organizations.
However, Graber Letterin' is not just a sign shop or vehicle lettering business. In addition to the large volume of signs, banners, and vehicle graphics, that we do each year, we also offer imprinted apparel through our apparel division, Alpine Tees and Sportswear. As part of our goal to provide a "one stop shopping experience" for our customers we also offer stationery services like business cards and brochures plus promotional products like pens and mugs to help companies or organizations promote their products or events.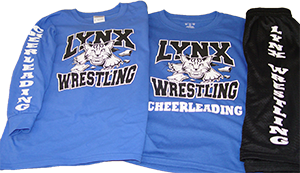 When a professional image is needed, we help businesses create that image. "When Image Counts" is not just a catch phrase with us. We are in position to provide top notch professional designs to help businesses and or organizations create an individual look with the development of unique, classy, and easily identifiable logos.
As technology has changed in the sign industry, Graber Letterin' has changed with it. Utilizing state-of-the art high resoultion digital wide format printers we can print virtually any design at any size and apply it to almost any surface. You can find out more about our digital graphics capabilities on our Digital Imaging page.
From design to the finished product Graber Letterin' has been impressing clientele with quality workmanship and service for many years. As we continue to grow and expand please check this site regularly for new products and services.